TEAM LEADER & ASSOCIATE BROKER
Anthony Friedman is a husband, father, and top producing real estate agent in the Maryland and DC areas.
​
Anthony began his real estate career in 2010 and has won many awards since. Over the last few years, he and his team have consistently been #1 out of all Howard County Offices based on volume sold. Anthony also received Baltimore Real Producers '30 in their Thirties' award for his sales, leadership and involvement in the community. If you were to ask Anthony, he'd be proud of that but he'd say what's most important is that AFT is #1 in your hearts! Anthony attributes his success, first and foremost, to his loyal clients and their unwavering trust.
​
With The Anthony Friedman Team, you can expect an exceptional, 5-star experience, no matter the price point of the home you are buying or selling. The Anthony Friedman Team is backed by the three powerhouses, Northrop Realty, Long & Foster, and Christie's International Real Estate. This allows the team to provide excellent sources of knowledge and the necessary tools to market seller's listings and help buyers find the right home, by working closely with their client care coordinators, assistants, professional home stagers, incredible marketing department, and supportive executives to ensure the highest quality of service.
Brittany was born and raised in Ellicott City, Maryland. She is a graduate of East Carolina University where she studied Communication and Public Relations. Brittany is passionate about the real estate industry and specializes in working with buyers and sellers on the marketing and sale of residential properties in and around Howard County. When she's not working, Brittany loves spending time with her two kids, cooking, and enjoying the outdoors. She is very involved in her children's activities and believes in supporting the community. Brittany's knowledge of the market and drive to make her clients happy has enabled her to focus on her client's needs with passion, care, and dedication. Brittany is committed to providing you with the highest level of service when assisting you with your real estate needs!
Joe has enjoyed success and gratification in the residential sales field since 2012. Joe has not only lived in the Howard County area for over a decade, but he has also served as an educator through the Howard County Public School System for many years. These experiences have helped him gain insight into the values of buying a home in Howard County and the surrounding areas, both professionally and personally. His passion and expertise continue to help him serve his clients throughout the entire process of homeownership and beyond. As a member of The Anthony Friedman Team, Joe brings 5-star service to you, no matter the price point of the home you are buying or selling.
Jenna's devotion to her clients is clear; there is nothing she won't do to ensure a smooth process for everyone she works with. Her dedication is far-reaching, by servicing clients in Baltimore City, Anne Arundel, Howard, Carroll, and Baltimore Counties. She keeps the process fun and cannot wait to celebrate alongside her clients, especially with "First Time Home Buyer Housewarming Parties." Jenna also understands that home buying and selling can be an emotional process and is able to skillfully navigate these ever-important decisions. Backed with the incredible service and experience of the Anthony Friedman Team, she is equipped with everything a buyer, seller, or investor will need to achieve in their real estate dreams.
Katelyn's rich background in the Hospitality industry for over 10 years has positioned her well for real estate. Whether expertly guiding buyers and sellers through the sales process, Katelyn provides top-level service to all of her clients. She began working in the restaurant industry in high school and transitioned to a professional career with Marriott Hotels after earning her degree from the Indiana University of Pennsylvania. She later pursued Residential Property Management before following her true passion, real estate.
Katelyn's sophisticated understanding of Maryland real estate transactions paired with her down-to-earth approach make her a trusted advisor and member of Northrop Realty. With her significant perspective in Residential Property Management, Katelyn brings a unique skillset to the table. Her keen eye for design and photography ensures that properties are beautifully staged and marketed to achieve outstanding results. Katelyn's professionalism, enthusiasm and market savvy give her clients a distinct advantage when navigating this complex marketplace. Katelyn currently resides in Ellicott City, MD. When she's not out selling real estate, Katelyn enjoys cooking and sharing her second passion, animals, especially dogs.
Susie has been in real estate, and part of the Long and Foster family for 17 years. She has lived in Howard County for 40 years, raising her family in the area. Susie has sold homes all over Maryland, including Howard, Baltimore, Anne Arundel, Montgomery, Frederick, and Carroll counties, and is happy to assist clients in any of the other regions of Maryland. As a realtor, her priority is to make her clients happy. She listens to her client's wants and needs to achieve the best outcome in every transaction. Susie strives to ensure that the home buying or selling process is fun, easy, and stress-free. Susie's clients can count on her any time of day when they have a question or concern.
Hasani was born and raised in Baltimore County, Maryland.
He's worked in real estate related fields since 2015, including founding Best In-House Media, a media company in 2017 focused on filming and photographing luxury homes for some of Maryland's top real estate agents. Hasani has a passion for marketing and is excited to offer his clients the full compliment of his content creation skills, including property walk through videos and aerial imaging to help get houses sold for top dollar!
He graduated from The Pennsylvania State University with a bachelors degree in Psychology and Neuroscience. Hasani is dedicated to providing you with the highest level of service that will exceed your expectations and be the advocate you need in your corner!
Elisa has been in sales for over seven years, and started her real estate career as a luxury new construction sales specialist. The training she received for new construction sales really prepared her for life as a REALTOR®. She learned the importance of understanding her clients' in-depth wants, needs and goals, how to ask the right questions and make sure she's am providing helpful guidance every step of the way. She has always been interested in being a REALTOR®, so when the opportunity arrived, she jumped at the chance. She knows that buying or selling a home is a major financial commitment and everyone deserves to work with someone who really cares about them and their life goals.


She is an attentive and aggressive agent. She fights for what her clients want and makes sure she is communicating with them throughout the entire process. She never misses a phone call and never lets her clients feel out of the loop. She works hard and goes above and beyond in her services because she loves people. She wants, more than anything, to be reassuring, supportive and caring. She never rushes anyone into making a decision and promises to always do the right thing for her clients. She has found that the best thing she can do for her clients is to simply listen; Listen to their goals, listen to their worries, listen to their problems and listen to what they need from her.

She is originally from Pennsylvania, but moved to the D.C./Baltimore Metro area after graduating college. She's learned all about this region and has grown to love the area. Her local knowledge helps her better serve residential clients around the entire Washington D.C. - Baltimore Metro area at large. Especially with relocating clients who don't know the area, getting to know them is important in determining which town, neighborhood and location best suits their unique wants and needs. They rely on her to help them find a place that best suits their lifestyle.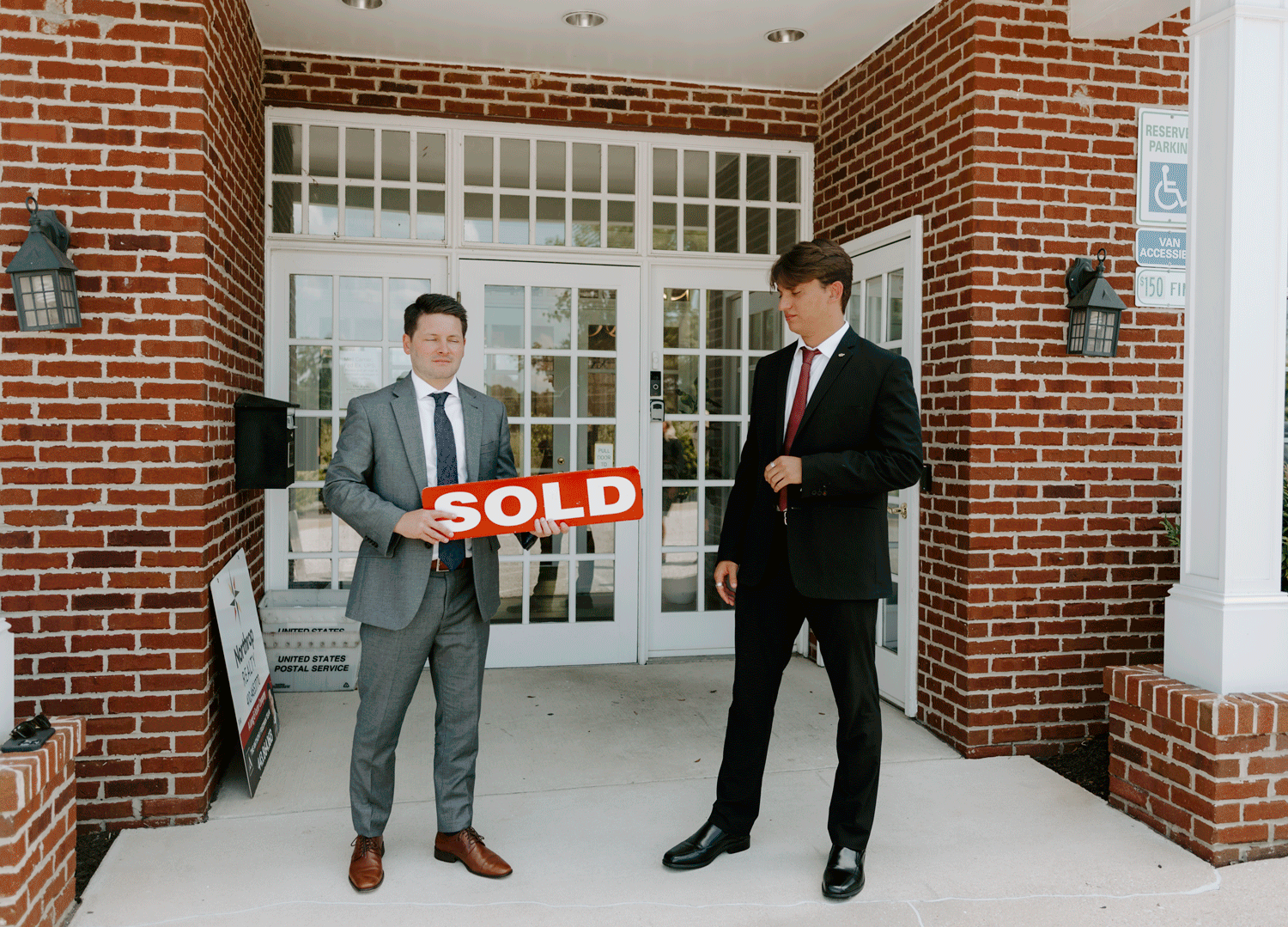 ​
Spencer wants to make the place he calls home, your new home. Born in Baltimore, and raised in Montgomery County, he has a thorough understanding of the region and the ebbs and flows of the housing market.
Here's what he prioritizes when building relationships with clients: Communication, responsiveness, hard work, passion, and dedication. The same principles propelled him to get his real estate license and join the Anthony Friedman team while still in college. He credits his parents for many of these traits, as they both worked in communications and marketing. He plans to bring those skills—vital to the real estate profession– to partnerships with his clients.
​

He's a proud graduate of High Point University in North Carolina– the premiere life skills university. His degree is a Bachelor of Science in Business Administration. But his education went further; High Point is where he was first introduced to the concepts of adaptability, collaboration, and motivation. Serving clients is where Spencer puts those skills to work.
He also works in marketing at a healthcare IT company based in Rockville, MD. In his free time, he works as a producer to create podcasts for influencers, companies, and more. And if you've gotten this far, Spencer wants to make sure you're ready to talk about the Baltimore Ravens.